Subway in crash was older, needed to be phased out
Federal officials had warned Metro about that type of train and say it is 'unacceptable' that it hadn't been retired or improved.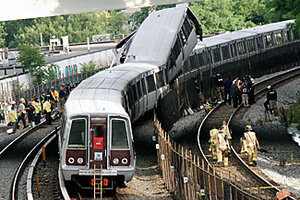 Pablo Martinez Monsivais/AP
Washington residents were advised to avoid a major subway line Tuesday as the nation's capital coped with Monday's subway crash that killed at least nine and raised safety questions about a system that carries millions of tourists and commuters.
The crash, which snarled the Monday evening and Tuesday morning commutes, was the worst accident in the Metrorail system's 33-year history and the first involving customer fatalities since January 1982.
The accident occurred around 5 p.m. Monday, just outside the Fort Totten Station in northeast Washington. Two trains, each comprised of six cars, both were headed in the direction of downtown Washington.
Red line train 214 was stopped just outside the station, waiting for clearance to move to the platform. A second train, No. 112, came up behind it and "for reasons we do not know, plowed into that train," Metro General manager John Catoe Jr. told reporters.
The second train was moving so fast that one of its cars ended up on top of the first train. In addition to nine fatalities, at least 70 people were taken to area hospitals, officials said.
The accident came at the start of Monday evening's rush hour and disrupted the trip home for thousands of customers on the Metro system's Red Line, its busiest. Transit officials ran shuttle buses around the affected areas of the rail system. But on Monday evening, information was scarce, shuttle buses crowded, and commuters frustrated.
Before the start of Tuesday's commute, the website for the Washington Metropolitan Area Transit Authority said, "Customers should avoid the Red Line Tuesday." But many commuters turned out as usual, ready for delays.
---