McMahon reveled in the role of second banana
His effervescent sidekick persona represents a bygone era of entertainment.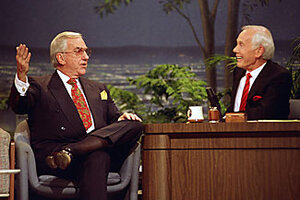 Douglas C. Pizac/ AP/ File
In the age of Twitter and Facebook, where anyone with a cell phone can star in his or her own personal show, it's easy to dismiss the role of "second banana." But Ed McMahon, the man most of the world knew simply as Johnny Carson's comedic sidekick for 30 years and who passed away early Tuesday, never did.
In an interview with the Monitor shortly after Mr. Carson stepped down from "The Tonight Show," the man who immortalized, "Heeeeeere's Johnny!" said he never lost sight of his role as mirror for the show's real star, Carson. But ironically, he said, he also learned all the essentials for being a perfect talk-show host. The key to a good interview, he said, "is listening. Everything you need to know, to ask the next question, is right there in whatever the guest said last."
That's a lesson the jovial sideman never had opportunity to use, points out Robert Thompson, director of the Bleier Center for the Study of Popular Television at Syracuse University. McMahon represents an old-school broadcaster who has all but disappeared from the world of entertainment, he says.
"He was really 'have voice, will travel," says Mr. Thompson, adding that a subservient role is a tough one for many in entertainment, especially these days. "We all criticize the culture's emphasis on celebrity and 'me-first," he says, "but what parent encourages their children to aspire to be vice-president?"
Professor Leo Braudy, who teaches popular culture at the University of Southern California, Los Angeles, remembers as an ubiquitous radio and early TV pitchman in Philadelphia before he got his boost into more national stardom.
---