Steve Jobs's health: A personal or public matter?
Many investors see the innovative Apple CEO as fundamental to the company's success. If he's unwell, they think they should be told.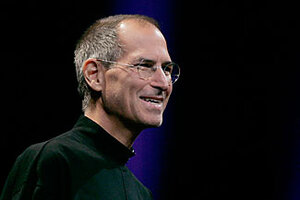 Kimberly White/Reuters/File
Reports this week of Steve Jobs's liver transplant in a Tennessee hospital raised questions about just how much information US corporations are obliged to release about their top executives.
Do investors, analysts, and Apple employees, for that matter, have the right to know the private details of Jobs's health, or is prying into the medical lives of CEOs unwarranted?
Jobs's health has been the subject of dogged curiosity among Silicon Valley insiders, technology reporters, and bloggers since he underwent surgery to treat pancreatic cancer in 2004. The interest grew even more intense when he began showing signs of weight loss and announced in January that he was taking a leave of absence from the Cupertino, Calif., company because of an undisclosed health issue.
Apple is known for being tight-lipped, but it has come under criticism from shareholders for not being more transparent about the health of its visionary head. Jobs is credited with turning the company around and for its successes with the iPod, the iPhone, and iTunes.
"Certainly, the health of the CEO is material information. Even if the CEO isn't someone who is held in such esteem as Steve Jobs, all CEO transitions have some cost associated with it," says Ben Hermalin, a finance professor at the University of California, Berkeley.
---