Search for Air France black boxes expected to continue
Locator signals from Flight 447's black boxes may fade after June 30, but investigators are likely to keep looking anyway.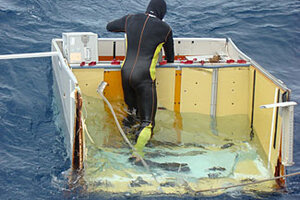 Brazil's Navy/AP
French investigators are expected to continue the search for Air France Flight 447's flight data recorders even after their 'pinger' signals fade in the next few days, perhaps with the aid of advanced sonar scans.
A Louisiana-based undersea mapping company, C & C Technologies, confirmed that it has been contacted by the Bureau d'Enquêtes et d'Analyses (BEA), the French investigation agency, regarding a "phase two" of the search effort.
The BEA sought information about using the company's computerized submarines – known as autonomous underwater vehicles – to scan the ocean floor. The Agence France-Press also cites BEA officials saying the search will continue beyond June 30, when the signals are expected to disappear, as long as it seems "a reasonable effort." BEA officials did not return Monitor calls.
The flight data recorders, known as black boxes, hold key information that can help explain what caused the Airbus 330-200 to apparently break up over the Atlantic Ocean on a routine flight June 1 from Rio de Janeiro to Paris. The black boxes emit an acoustic signal that makes them easier to locate, but the batteries that power them are designed to last only 30 days.
Currently, an international flotilla comprising French and Brazilian naval ships, a French nuclear submarine, a Dutch ship towing a US Navy signal locator, and several research vessels are scouring the ocean more than 600 miles northeast of the Brazilian coast.
Reports earlier this week suggested the black boxes' signal had been located, but the BEA later said the sounds were not from the flight data recorders. French investigators are said to be hoping the black boxes will continue to emit a signal beyond 30 days, but are reportedly also setting up contingency plans.
---