Will second crash in one month hurt Airbus image?
With just four companies manufacturing large commercial planes, any accident draws scrutiny to a firm.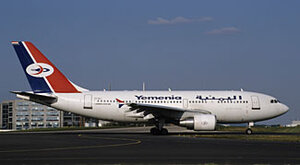 Thomas Noack/REUTERS/FILES
The second Airbus jet crash in the past month has created a public relations challenge for a company that has so far had a good reputation for safety.
Early Tuesday, a Yemenia Air Airbus 310 went down with 153 people on board near the Comoros islands in the Indian Ocean in stormy weather. Searchers have rescued one child so far.
A month ago, an Air France Airbus 330 apparently broke up over the Atlantic Ocean on a routine flight from Rio de Janeiro to Paris. All 228 people on board perished. The accident is still under investigation, but initial evidence indicates that speed sensors may have malfunctioned, sending faulty information to one of the plane's flight computers.
It's too early to speculate on the cause of Tuesday's crash, but French air safety authorities say the aircraft was inspected in 2007 and found to have "a certain number of faults." They did not say whether the faults were structural, mechanical, or computer-related.
---