Diplomatic crisis averted: Willy the sea turtle safe
She got the white-glove treatment for her return to US waters, after a harrowing Atlantic crossing.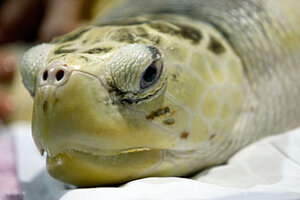 Shawn Rocco/Raleigh News & Observer/MCT/FILE
As you search out your own swimming hole over the July 4 weekend, consider the tale of Willy, an errant Kemp's Ridley sea turtle who's back in her native warm waters off the US East Coast – thanks to a US diplomat in London who got Willy a one-way ticket home.
Willy's is unabashedly a feel-good summer holiday story, with adventure, a do-gooder, and an irresistible animal. Who wouldn't fall for a fin-flapping, mottled turtle with plaintive eyes and a life-threatening sea-crossing on her résumé?
But Willy's tale is also a reminder that not all of the nation's diplomatic business is about international conflict, or terrorism, or belligerent regimes posing nuclear threats. Sometimes a diplomat's work is about addressing the needs of marooned American citizens – and in this case that "citizen" happened to be a rare turtle.
Wow. Now that was a trip.
Just how Willy survived a transatlantic swim is unclear, but somehow she washed up on the beach in Devon in southern England in January 2007, cold and nearly dead. Some pitying beachcombers alerted the nearby Sea Life Center in Weymouth, which took her in and nursed her back to health. But the center's marine biologists thought the turtle, by now christened "Willy," should be returned home.
Enter the American diplomat.
---