FROM OUR FILES: An Interview with Karl Malden
Karl Malden, who died today, spoke to the MONITOR in 1959 about acting and working with directors such as Kazan and Hitchcock.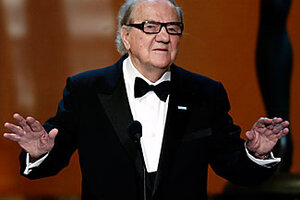 Mike Blake/Reuters/File
From the October 13, 1959 issue of The Christian Science Monitor
Karl Malden, who directed "Time Limit" for Richard Widmark, doesn't want to become a director. Nowadays most actors, whether from Broadway or Hollywood, seem to want to grasp the reins one way or another, either as director or as producer. Mr. Malden, so far, is unconvinced.
"I'd have to start all over as a director," he explains. "If I did that, then people would stop thinking of me as an actor, and I couldn't get acting jobs any more. Direction is a tough business, a highly specialize d kind of country to work in. Of course if something wonderful comes along again, like 'Time Limit,' it might be hard to reluse."
Mr. Malden is also much more interested in movies than in the stage or television. "The theater seems to be growing smaller in this country,'' he observes. "There arc good signs Off-Broadway and on college campuses; but the New York stage, over the years, has been contracting in size. Maybe now the film can become the major dramatic art form, with TV taking over the old 'B' picture production."
As an actor, he'd much rather work in films than TV, for one very simple reason. "On live television, you're completely at the mercy of the director's booth. My performance is in the hands of a fellow pushing a button. I never get a chance to see how it looks. In Hollywood, I usually can see the rushes with the director, and if 1 think the scene misses the point, I can say to him, 'Look, I think this is wrong. Let's do it again.' "
The best kind or character to play is one that isn't all black or white, Mr. Malden says. In "Pollyanna," for Walt Disney, he has a part like that, a kind of "wild - eyed, long - haired evangelist." He likes to keep his roles out of a rut. In the first movie he ever made, "Boomerang," Elia Kazan cast him as a detective; for two years after that he turned down detective roles. He had never played a villain when "The Hanging Tree" came along, "unless you include the father in 'Fear Strikes Out." " After a long stint in Marlon Brando's "One-Eyed Jacks" (to be released next year), he's not interested in villains for a while.
---