Losses loom for airlines, but most can stave off bankruptcy – for now
Passenger traffic at the largest carriers is well below last year's level. Big fare reductions aren't bringing in enough travelers.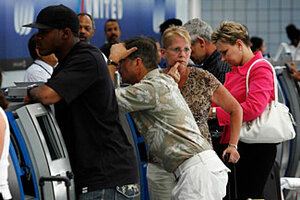 John Gress/REUTERS
Though some airlines are slashing fares to lows not seen since the mid 1990s, many Americans still aren't flying.
In June, passenger traffic among the largest airlines plummeted from the same time last year. United Airlines led the pack with a drop of 10 percent.
That's prompting analysts to predict losses across the board when airlines post second-quarter earnings later this month. But few are predicting a rush toward bankruptcy court, at least not in the near future. That's because load factors – or how full a plane is – are up as airlines have sharply reduced the number of flights.
As long as oil prices don't rise again suddenly, most airlines are expected to limp along, economically, toward the end of the year.
"If I had to make a choice, I'd say you won't see any bankruptcies before the fourth quarter of this year," says Robert Herbst, an analyst at AirlineFinancials.com. "The traffic demand, even though the fares are low, seems high enough so they'll have enough cash flow to keep going on through the summer. That could change drastically in the wintertime."
That's because people don't fly as much in the fall and winter, except on holidays. So the challenge is: How do airlines increase revenues or cut costs enough to keep the cash flowing? Most have already slashed costs since the boom times of the late 1990s. As an industry, airlines have laid off 150,000 people since 9/11 and cut remaining workers' pay and benefits. In 2008, "operating revenues … were around $3 billion more than year 2000. Over the same time period, employee wage/benefits dropped by nearly $6 billion," Mr. Herbst wrote in a recent commentary on AirlineFinancials.com.
---