With Michael Jackson, the end of the megastar?
Media fragmentation – and a public that's seen it all – makes it harder for today's artists to achieve global superstardom.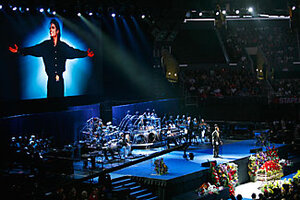 Mario Anzuoni/Reuters
Can there ever again be a megastar the size of Michael Jackson?
Nowadays, it's rare for a pop-culture icon to unite the world's divided attention. The globe's communal moments have come, instead, from times of disaster – the 9/11 terrorist attacks or the 2004 tsunami. Yet for several hours on Tuesday, TVs and computers from Tokyo to Tel Aviv were tuned in to the Michael Jackson memorial service in Los Angeles.
That Jackson could command such an audience is testament to the kind globe-straddling star power that was possible in an earlier, simpler entertainment age. Amid today's fragmented popular culture, in which an unlimited buffet of mass media has segregated consumers into niche-oriented tribes, Jackson was arguably one of the world's last superstars.
"It isn't just that Michael Jackson was the last superstar because he was one of the last people to benefit from an unfragmented media," says Timothy Burke, a cultural historian at Swarthmore College in Pennsylvania. "He may also have been one of the last people who could surprise us with a stunning innovation where we didn't have that sense already of being so jaded by the ubiquity of spectacularly good entertainment. That someone could just leap on the stage and do this thing, and you could go, 'Wow, I've never seen that before!' "
A star is born – via old media
---