What could have torn a hole in jet? Experts stumped.
Southwest Airlines has inspected all its 737-300 jets and found no problems. Fuselage damage of the sort that forced Flight 2294 to make an emergency landing Monday is very rare.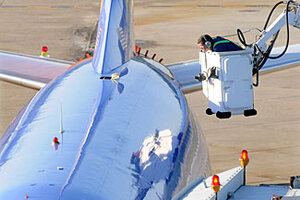 Chris Dorst/The Charleston Gazette/AP
Southwest Airlines has completed inspecting its entire fleet of Boeing 737-300s – saying it found no problems – after a football-size hole ripped in the fuselage near the back of Flight 2294 and the cabin lost pressure Monday.
The plane, which originated in Nashville and was on its way to Baltimore, made an emergency landing in West Virginia. It landed safely with no injuries to the 131 on board.
The National Transportation Safety Board (NTSB) is currently investigating what happened.
"We've never had anything like this happen at Southwest, which is why we are working so closely with the NTSB and Boeing to figure out exactly why and how this occurred," says Marilee McInnis, a spokeswoman for Southwest Airlines. "We just don't know at this point."
---