Jupiter collision a warning call to Earth
The list of cosmic objects that could hit Earth is growing. Scientists study satellite 'tractors' and nuclear weapons as ways to divert asteroids headed our way.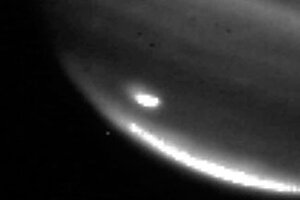 Infrared Telescope Facility/Handout/JPL/NASA/Reuters
When an object smacked into Jupiter over the weekend, giving astronomers their best cosmic-collision show since the comet Shoemaker-Levy 9 in 1994, the giant gas ball of a planet took the poke like the Pillsbury Dough Boy.
For all its scientific interest, however, the collision also serves as a stark reminder that the solar system remains a shooting gallery – with Earth, as well as Jupiter, on the wrong side of the firing line.
The object's signature on Jupiter's cloud tops initially was discovered by Australian amateur astronomer Anthony Wesley as he gathered digital images of the giant planet through his 14.5-inch telescope. After alerting other astronomers to what appeared to be a "scar" in the cloud tops similar to those generated by the pieces of Shoemaker-Levy 9, NASA scientists trained a 3-meter (9.8-foot) infrared telescope on the planet and got a good look at the scar.
"It could be the impact of a comet," according to Glenn Orton, a scientist at NASA's Jet Propulsion Laboratory (JPL) in Pasadena, Calif., in a statement yesterday. "But we don't know for sure yet."
When it comes to objects Earthlings should keep an eye on, the catalog scientists have amassed is swelling.
---