Even after 911 tape released in Gates case, questions linger
The woman who placed the call never said anything about black men breaking into Professor Gates's house. So how did it get into Sergeant Crowley's report?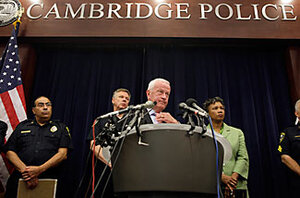 Stephan Savoia/AP
The Cambridge Police Department on Monday released tapes from the 911 call and the incident that led to the arrest of Harvard scholar Henry Louis Gates Jr. on his own front porch, putting to rest some questions but raising others.
The 911 caller never mentions black men in the 911 recording. She says she saw two men attempting to force entry into Professor Gates's house, but she did not mention their race until asked by the dispatcher. Then she guessed – incorrectly – that one might be Hispanic.
This seems to suggest that so-called "racial profiling by proxy" – police being influenced by racial biases of a caller – did not come directly into play in the Gates arrest. But it leaves unresolved a line in Sgt. James Crowley's police report, where he says a neighbor told him two black men entered the house.
The case set off a firestorm of debate about the tensions between blacks and law enforcement. After first saying the Cambridge police "acted stupidly" in arresting Gates, President Obama on Friday said he hoped the incident would be a "teachable moment" for a nation still fraught with racial mistrust.
But part of that introspection includes getting all the facts out in the open, critics say.
The Cambridge Police Department sought to do just that by releasing the tapes Monday. The tapes shed some light, but still leave room for debate about what, exactly, happened on July 16 on Ware Street.
Gates, who is black, had returned from a business trip and was trying to force open the front door of his house – which was jammed – with his limo driver, whom Gates has described as Moroccan.
---