Evangelicals march north
Southern Baptists are among those 'planting' new churches in the rocky soil of secular New England.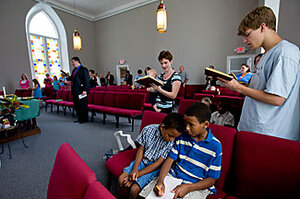 Ann Hermes/The Christian Science Monitor
After three decades as a home to pigeons rather than parishioners, a 175-year-old stone church with Presbyterian roots is once again filled with song on a warm Sunday morning. This time around, however, the brand of faith carries a new tune, one that would be more familiar in Mississippi than Vermont.
Hallelujah religion is a-rising in Yankee country. As liberal congregations die in a secularizing region, conservative churches with roots outside New England are replacing them with a passionate brand of faith that emphasizes saving souls – even in a land where many think there's nothing to be saved from.
Before worship at Capstone Baptist Church here in North Bennington, 10 adults lay hands on electrician Don Betit and pray for healing from an ankle injury. Then, after 40 minutes of preaching, Pastor Phillip Steadman invites the hurting and newly committed to come forward for an altar call. During intercessory prayers, worship leader Lewis Brown prays for speedy salvation among unbelieving loved ones, "before it's too late."
In eight years, the Southern Baptist Convention (SBC) has more than doubled its Vermont church count, from 17 to 37. Among them is Capstone, which opened on this site in December. Likewise, Southern Baptists have planted at least 24 new churches in New Hampshire over the past 10 years. The Assemblies of God, a Pentecostal denomination, has planted at least six new congregations in New Hampshire and Maine since 2006.
---