Turbulence is leading cause of air flight injuries
Passengers on a flight from Brazil to Houston were hurt after the plane hit severe turbulence Monday. Unbuckled seat belts are a key reason for turbulence-related injuries, say experts.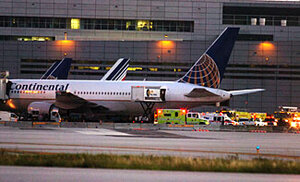 Miami Herald, Tim Chapman/AP
If you've ever wondered why pilots and flight attendants are adamant about keeping your seat belt fastened during flight, just look to Miami Monday morning.
Federal Aviation Administration (FAA) inspectors are currently examining a Continental Airlines plane that made an emergency landing there at dawn after 26 people were injured, four of them seriously, due to severe turbulence.
Flight 168 originated in Rio de Janeiro and was headed to Houston with 168 people on board. According to the FAA, the plane hit severe turbulence about 4:30 a.m. and diverted to Miami, landing about 5:30 a.m.
Most of those injured suffered bumps and bruises, but four were hurt seriously. Thirteen people were taken to the hospital. Airport officials say the remaining passengers will travel on other Continental flights to Houston later Monday.
Aircraft are designed to withstand severe turbulence. For pilots who routinely fly several times a day, turbulence is a common occurrence. Severe turbulence, the kind that can cause injuries, is less common, but it's not as rare as one might think. According to the FAA, turbulence is the "leading cause of injuries to airline passengers and flight attendants" in nonfatal accidents.
---