Free 40,000 California inmates? Not so fast.
A federal judicial panel orders the state to come up with a plan to cut prison populations. But any such plan would be carried out over two years – and any actual release order challenged.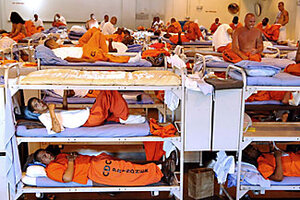 California Department of Corrections/AP/File
Is California about to open its prison gates, freeing more than 40,000 inmates?
Earlier this week, a federal judicial panel gave the state 45 days to come up with a plan to cut its prison population in order to adequately care for its inmates.
But don't expect inmates to be freed from any of California's 33 adult prisons next month. Even if prison officials come up with a plan that both lawmakers and the federal court justices accept, the state would have two years to carry out any reduction.
If the court does actually mandate a release, the state would appeal that ruling to the US Supreme Court. Right now, state lawyers are still reviewing the justices' 184-page decision that was issued Tuesday.
"All the court has asked for in this ruling is for the state to develop a plan in 45 days … so the legal question is whether or not the state can appeal a ruling that directs us to come up with a plan," says Seth Unger, press secretary for the California Department of Corrections and Rehabilitation.
Unconstitutional overcrowding?
At issue in the court case is whether overcrowding in California's prisons has resulted in an unconstitutional level of care for the state's 155,000 inmates (12,000 of the state's inmates are housed in other facilities or in out-of-state prisons).
---