Crowded cells, racial tensions stoke California prison riot
Violence between black and Latino inmates at the Chino prison near Los Angeles Saturday left almost 200 men injured.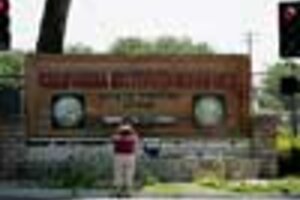 Ed Crisostomo/ The Press-Enterprise/ AP
A riot that injured almost 200 inmates at a prison in Chino, 40 miles east of Los Angeles, was reportedly sparked by racial tensions between blacks and Latino inmates, but experts say overcrowded conditions are what probably fanned the flames into violence.
The melee broke out around 8:20 p.m. Saturday, among about 1,300 of the prison's 5,900 inmates housed at the California Institution for Men in military-style, wooden barracks designed to hold 3,000 people. Black and Latino prisoners barricaded themselves in one corner of the barracks and used improvised weapons such as pipes and glass to beat and stab one another. A dormitory was burned and 55 inmates were seriously injured in the incident.
The riot comes less than two weeks after a three-judge federal panel ordered California to come up with a plan within 45 days to reduce prison population by 40,000 over two years.
"If ever there was a situation that proves this was a right decision, this riot is it," says Barry Krisberg, president of the National Council on Crime and Delinquency in Oakland, Calif. He says that overcrowding – besides jamming two or three inmates in spaces intended for one – takes away gymnasium space and classrooms dedicated to programs specifically aimed at easing tensions within prisons.
---