New York's skies: safe or 'too congested'?
In the wake of Saturday's midair collision, seven New York lawmakers on Monday pushed the Federal Aviation Administration to enforce stricter flight rules in the Hudson River corridor.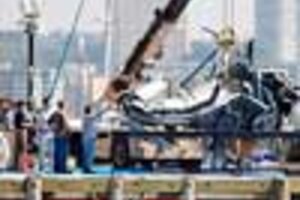 Shannon Stapleton/Reuters
The midair collision of a small airplane and a tourism helicopter over the Hudson River Saturday is opening the broader question of whether the Federal Aviation Administration (FAA) should regulate low-flying flights in busy urban corridors.
Advocates who want the FAA to take greater control say it's simply too crowded in some airspaces, such as New York or Los Angeles. They argue small planes and helicopters need to have transponders so they can be seen on radar, as well as collision-avoidance systems that warn pilots when the wander too near another aircraft. Moreover, they want pilots to file flight plans, just like pilots on large commercial craft.
Opponents maintain that one fatal accident over the Hudson River does not make the skies unsafe. They maintain the industry is already highly regulated, and the nation should wait to see what the National Transportation Safety Board (NTSB) recommends.
"I don't know if politicizing of the tragedy is the best way to go about this," says Robert Grotell, special adviser to the Eastern Region Helicopter Council.
---