Options narrow for future of human spaceflight
A panel moves closer to recommending where NASA should fly next, and how.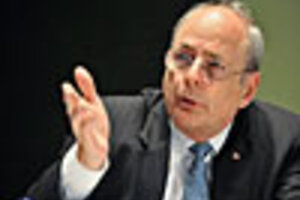 Bob Gathany/AP
If the US simply maintains spending for human spaceflight at current levels, NASA will have enough money to build one new rocket to carry crews into space by 2020. But it will literally be a rocket to nowhere: The space agency will have no place to send it for at least another decade.
That stark message underlies options for the US human spaceflight program, which a 10-member panel will present to the Obama administration when it wraps up its work at the end of August. The panel's assignment: Present the president with choices that are sustainable, fit within current budget constraints, yet represent bold steps beyond low-Earth orbit.
"Our view is that it will be difficult with the current budget to do anything that's terribly inspiring," said panel chairman Norman Augustine at the end of Wednesday's public meeting in Washington – probably the last the committee will hold before it winds up its work.
Barring new information, the panel has zeroed in on four options to present to the White House. Two focus on the moon as the space program's next destination beyond low-Earth orbit. Two others focus on a suite of deep-space missions that include trips around the moon, to asteroids, and a Mars fly-by. This path could lead to a mission to each of four deep-space destinations between 2020 and 2030.
All four options envision Mars as a long-term destination for human boot prints, but the panel struck Mars off its agenda as an immediate goal because of cost.
---