Burress case: No legal free pass for athletes any more
The ex-New York Giant accepted a two-year jail sentence as part of a plea deal Thursday. His case follows that of Michael Vick, who spent 18 months in prison for dogfighting.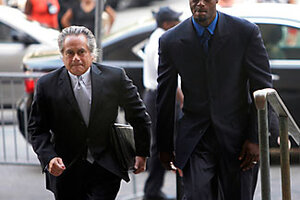 Seth Wenig/ AP
Ex-New York Giants receiver Plaxico Burress's decision Thursday to accept two years' jail time in connection to a weapons charge is a new twist on an old story.
Athletes have often found that their celebrity to be a benefit when it comes time for a judge to swing the gavel. Now, Mr. Burress and former Atlanta Falcons quarterback Michael Vick – who last week joined the Philadelphia Eagles after serving 18 months in prison – have found that the opposite is increasingly true.
In the era of the ill-behaved athlete, the traditional deference to celebrity is being turned on its head. Prosecutors and judges in such cases are sometimes using the national spotlight to make a statement, legal experts say.
The offenses of Burress and Mr. Vick were hardly trivial: Burress illegally brought a gun into a nightclub and shot himself in the leg, and Vick ran a dogfighting ring. But Burress's lawyer, for one, suggested that "if Plaxico Burress were not a high-profile individual, there never would be a case."
Speaking generally, some others agree.
"No doubt there are cases where judges, jurors and even prosecutors are star struck," says Lisa Griffin, a former United States Assistant District Attorney. "But it's also true that, partly because there's so much more attention on these cases than there was in the past, that both prosecutors and judges are more attentive to so-called 'expressive' consequences, meaning the signals sent by prosecutions and sentences."
---