What can be learned from Jaycee Dugard's kidnapping ordeal?
Few abducted children held for long periods return alive. Her case offers hope for other cold cases, as well as 'opportunities to learn.'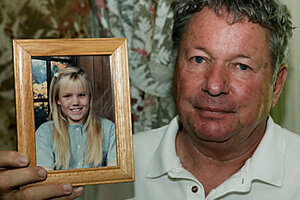 Nick Ut/AP
As details come to light about the recovery and horrifying 18-year captivity of Jaycee Lee Dugard, lessons about how to prevent or uncover the most tragic sorts of child abductions are also likely to emerge.
What is already known is that Ms. Dugard, who was kidnapped in 1991 in South Lake Tahoe, Calif., allegedly by a convicted sex offender, managed to do what many children nabbed by strangers don't. She survived.
Of about 100 children abducted each year by strangers, 40 are killed, according to US Department of Justice (DOJ) estimates. In 4 percent of cases, the victim is never found.
As is allegedly the case with Dugard, sexual predators are often responsible for such kidnappings. More than half of children taken by strangers, the DOJ statistics show, are sexually abused by their captors.
How the suspects in the case, Phillip Garrido and his wife, Nancy Garrido, were able to hide Jaycee and, later, two daughters he is thought to have fathered by her – and to have disabled their flight – will be of utmost interest to law-enforcement officers and those who work on behalf of victimized children.
---