After weather and valve glitch, shuttle Discovery set to launch
Sensors failed to signal fuel valve's status. But further tests may allow officials to "relax" a rule.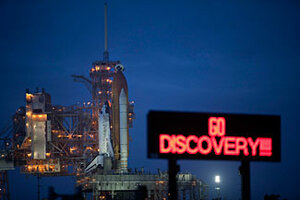 Scott Audette/REUTERS
After two delays over four days, the space shuttle Discovery and its seven-member crew are set for launch Friday night on a 13-day mission to the International Space Station.
The crew will deliver the treadmill named for comedian-satirist Stephen Colbert to the station, along with laboratory hardware, a new crew sleep station, and other supplies. Astronauts are scheduled to conduct three spacewalks for maintenance tasks. And the mission will return station crew member Timothy Kopra, leaving astronaut Nichole Stott on the station, as part of a regular crew rotation.
The launch, scheduled for 11:59 Eastern Daylight Time, originally was to have taken place early Tuesday morning, but at the last minute bad weather forced launch director Peter Nickolenko to scrub the attempt.
The team aimed for a Wednesday morning launch. But that attempt was canceled when controllers couldn't tell if a critical valve had closed, as it was supposed to do, as the fueling process ended.
The valve controls the flow of fuel when the shuttle's main tank is being loaded or emptied. Flight rules dictate that when sensors fail to signal the valve's status, controllers can't test the valve directly by opening and closing it with a full load of super cold fuel in the tank. If the valve is balking because it's gunked up with debris from wear and tear, it could get stuck in the wrong position.
Instead, the shuttle's external fuel tank must be emptied. And temperatures and pressures in the valve's surrounding plumbing must be at ambient levels before controllers can try to open and close the valve several times to make sure it works.
---