Hurricane Fred veers off. Why the US has been spared so far.
A surprise El Niño effect is disabling oncoming storms from the east and could make 2009 the first quiet hurricane season in years.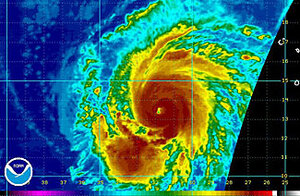 NOAA / AP
The hurricane season may be dead in the water.
Hurricane Fred – the second hurricane and fifth named storm of the 2009 Atlantic storm season – grew into one of the strongest storms ever in the east Atlantic on Wednesday, but is now veering off toward the open north Atlantic where it's likely to soon dissipate.
Despite favorable hurricane conditions off the African coast, a surprise El Niño effect in the Pacific is cutting down oncoming storms from the East, forecasters say.
"We're getting these hurricane seedlings that are trying to make it across Atlantic … but they're getting annihilated" by El Niño-spawned westerlies in the upper atmosphere, says Keith Blackwell, a storm forecaster at University of South Alabama's Coastal Weather Research Center in Mobile. The storms, he said, are "getting a crew cut."
Predictions about an "active" hurricane season have dissipated like a late summer thunderstorm since last month, when hurricane Bill washed beachgoers off some rocks in Maine. Forecasters have already downgraded the season to "below-average."
---