World Trade Center's steel beam to be part of 9/11 memorial
After terrorist attacks, the 'last column' became a place where emergency responders and family members taped notes and photos of lost loved ones.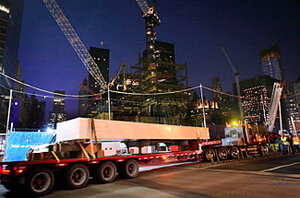 Mark Lennihan/AP
New York City struck its first notes of memorial solemnity this week, returning an icon of the 9/11 attacks to ground zero.
The last piece of steel standing after two hijacked airplanes struck and felled the World Trade Center towers was returned to the site – as a piece of what will be the National September 11 Memorial & Museum.
The 36-foot-long fragment of the South Tower has become known to locals as "the last column." Once part of a steel box that ran from the bedrock to the roof of the 1,300-foot-tall tower, the last column became an impromptu memorial site, where emergency responders and family members duct-taped pictures of lost loved ones, notes, and Mass cards.
It was also the last piece of the towers to be removed, and its extraction in 2002 marked the end of a nine-month effort to recover the remains of the nearly 3,000 victims.
"The last column is one of the most iconic artifacts that still exists today," says Joe Daniels, president of the memorial and museum. The column is "the first artifact symbolizing the recovery effort and sacrifices that were made."
The column was brought back to the city from a hangar at the John F. Kennedy Airport, with a six-car escort. Port Authority Police Lt. John Ryan, who led the escort on its 90-minute trip, said the column's return marks a new chapter in remembering 9/11.
---