Serena Williams foot fault: What did she say and why?
Meltdowns are a part of tennis, but foot-fault calls – especially on crucial points – seem to drive players over the edge.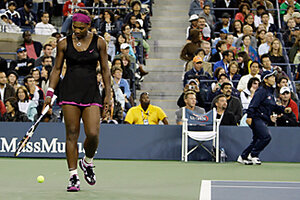 Darron Cummings/AP
Serena Williams's spectacular meltdown in the semifinal of the US Open Saturday reinforces one truism of modern tennis: nothing infuriates players quite as much as the foot fault call.
Battered and reeling in a match against Kim Clijsters, Williams was called for a foot fault on a second serve at 15-30, 5-6 in the second set. The call gave Clijsters two match points, and so incensed Williams that she began a tirade worthy of tennis's four-letter king, John McEnroe.
(Do you remember: "You cannot be serious!")
Approaching the lineswoman who made the call, shaking her racket and pointing, Williams said: "I'm going to shove this [expletive] ball down your [expletive] throat," according to CBSsports.com.
SI.com writer S.L. Price, who was in the press tribune 15 rows away, says he heard Williams say: "You better [expletive] be right."
(See a video of the entire incident here.)
---