$1 million for Texas school district that shrank achievement gap
The Broad Prize for Urban Education was awarded Wednesday to Aldine, a predominantly minority district.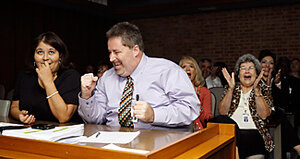 Pat Sullivan / AP
The Aldine, Texas, school district has won the prestigious Broad Prize for Urban Education this year, and with it $1 million toward scholarships for high school seniors.
The prize is given to the urban district that has made the most strides in advancing overall student achievement and in narrowing the achievement gap for minority and low-income students. It's often looked to as an indicator of which districts are doing things right in tackling some of the most intractable education challenges.
Aldine, which serves parts of Houston and unincorporated Harris County, was up for the award for the fourth time. It's a predominantly minority district. In both reading and math, at all grade levels, Aldine last year outperformed other Texas districts that serve similar family incomes. It also narrowed the achievement gaps between minority students and the state average for white students in middle-school math.
Between 2005 and 2008, it reduced the gap in middle-school math scores for African-American students by 14 percentage points. In general, it managed to break a common correlation between income level and achievement – even with 84 percent of the district's 63,000 students coming from low-income backgrounds.
---