FBI widens terror probe from New York to Colorado
Law enforcement officers Thursday questioned Najibullah Zazi, an airport shuttle driver in Denver, as part of an investigation into an alleged terror plot in New York City.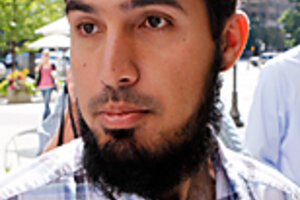 Ed Andrieski / AP
Najibullah Zazi met for the second time with Federal Bureau of Investigations (FBI) officers in Denver Thursday to answer more questions regarding a terrorism probe that stretches from Queens, N.Y., to Aurora, Colo., and has been called the most "sensitive" investigation of its kind since 9/11.
Mr. Zazi, an Afghan native who works as an airport shuttle driver in Colorado, has become the subject of interest in a case that law enforcement sources have said may involve an US-based terrorist cell with possible links to Al Qaeda.
Officials told the Associated Press (AP) that the group is suspected of aiming to develop hydrogen peroxide-based bombs, the same types of explosives the London bombers used in July 2005 attack that killed 56 people.
The government issued an alert to law enforcement Monday to be on the lookout for anyone buying large quantities of chemicals that could be used to make explosives. Also, on Thursday, agents in Denver went to Home Depot stores in an effort to track any recent purchases of similar chemicals.
US terrorism experts and government officials have been saying since 9/11 that another attack was likely. While several terrorism-related arrests have been made in the US over the past eight years, nothing matches the reach of what officials allege in this still-unraveling case.
---