Admissions scandal brings down University of Illinois president
B. Joseph White set to resign over system of preferences for politically connected applicants.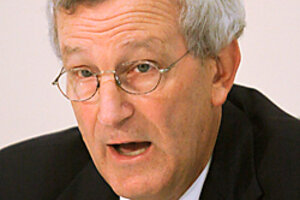 Seth Perlman/AP/File
University of Illinois President B. Joseph White plans to resign, the latest casualty of a ballooning scandal at the state-run school over a tainted admissions process.
Since May, when news reports uncovered a system in which politically connected applicants were labeled "Category I," tracked separately, and given preference over more qualified candidates, six members of the university's Board of Trustees have been replaced and the Faculty Senate called for replacing both President White and Chancellor Richard Herman.
"This is totally voluntary," Illinois Gov. Pat Quinn (D) said Wednesday of White's decision, noting that it is "designed to, I think, make sure that everyone in our state, in our country, our whole world, knows that the University of Illinois and its excellent reputation and its scholarship will continue."
For some critics, the scandal is the latest example of a pervasive culture in Illinois of corruption and patronage – the same culture that brought down former Gov. Rod Blagojevich earlier this year and, previously, numerous other politicians at all levels.
---