Atlanta flood: remnants of hurricane Fred are to blame
Once a Category 3 hurricane, Fred had been sheared off by El Niño-spawned air currents. But the storm then traveled nearly 2,000 miles and combined with another weather system to produce 20 inches of rain.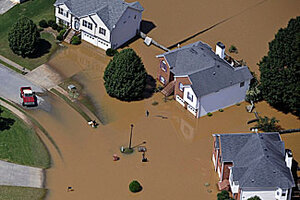 David Tulis/Reuters
Reduced to a menacing swirl of low clouds, the storm formerly known as hurricane Fred seemed an afterthought.
Once a Category 3 hurricane – and the strongest storm ever on record to push into the east Atlantic – hurricane Fred had been sheared off by strong El Niño-spawned air currents in the upper atmosphere.
But what remained of the storm traveled nearly 2,000 miles from where its eye had petered out and essentially slid under a high-level low-pressure area that had pummeled the Southeast with rain since Sept. 15.
That combination produced nearly 20 inches of rain in some places, bringing widespread flooding, killing 10, and piling up some $250 million in damages. Much of this was in formerly drought-stricken metro Atlanta, during a mostly calm US hurricane season.
"It was the fact that Fred had no head that it managed to wander over as far west as it did," says Keith Blackwell, a hurricane tracker at the University of South Alabama in Mobile. "Combined with the weather system that was already there, it was enough to produce a heavy flood pattern."
For many storm experts, Fred's role in the Atlanta flood is a reminder that hurricanes sometimes do most of their damage far from the dramatic approach of a thunderous eye.
---
Follow Stories Like This
Get the Monitor stories you care about delivered to your inbox.