NY terror plot built on beauty store chemicals, feds charge
The Denver driver Najibullah Zazi shopped for hydrogen and other chemicals before travelling to New York prior to the 9/11 anniversary, according to new government charges filed Thursday.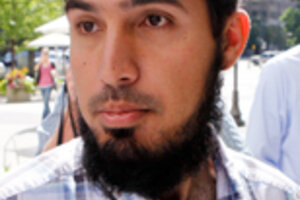 Ed Andrieski/AP/File
The most detailed account so far of the case against terror suspect Najibullah Zazi was laid out in a federal government motion unsealed Thursday. It charges that the Denver airport shuttle driver shopped for bomb-making chemicals at beauty supply stores in Colorado and searched the Internet for instructions on how to operate a chemical lab.
The motion argues he should be held without bail.
"Zazi received detailed bomb-making instructions in Pakistan, purchased components of improvised explosive devices, and traveled to New York City on September 10, 2009, in furtherance of his criminal plans," the government alleges in the document.
Mr. Zazi appeared briefly in a Denver courtroom Thursday for a scheduled preliminary hearing on charges that he lied to federal agents. Those charges were dismissed and the hearing was postponed to Friday because a New York grand jury indicted him on Wednesday of conspiracy to use weapons of mass destruction.
---