Parole holds key to California prison overcrowding
Between 60,000 and 70,000 California parolees return to custody annually for violations, many of them minor. Reforms passed this month could help cut prisoner tallies.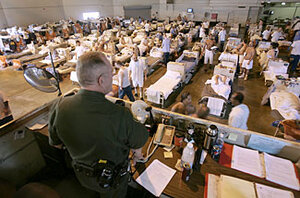 Tony Avelar/The Christian Science Monitor
Standing in a dim prison gymnasium that's been converted into a vast cell to house 300 inmates, Phillip Nelson talks about how he's spent much of his adult life incarcerated. He's been in and out of the Deuel Vocational Institution, a 1950s-era penitentiary that is now California's most overcrowded prison, partly due to parole violations since being convicted of receiving stolen property in the 1980s.
"I wouldn't be in prison if it weren't for the parole system," says Mr. Nelson, who was most recently sent back to prison for violating the terms of his parole because, he claims, he missed a "class."
Many of his fellow inmates, who sleep in cots lined up in rows stretching the width of the gym, also say they returned to prison for parole violations.
That is set to change. California has made sweeping changes to its parole system that experts and government officials say are key to reducing dangerously high populations in the nation's largest correctional system.
"Until we get parole under control, we can't get prison crowding under control," says Joan Petersilia, a law professor at Stanford University who has written extensively on California's parole system.
Between 60,000 and 70,000 California parolees return to custody annually for violations. They may have failed a drug test, gone missing, or even committed a new crime for which they were not prosecuted. They're sent back to a system that is so overcrowded and underserved that a federal judicial panel, describing conditions as "woefully and constitutionally inadequate," in August ordered the state to reduce its 170,000 prison population – double its capacity – by 40,000 inmates.
---