New York to fight terrorism with more street-corner cameras
Mayor Bloomberg moves to expand high-tech surveillance to midtown Manhattan. But civil liberties groups are concerned, and some security experts question its value.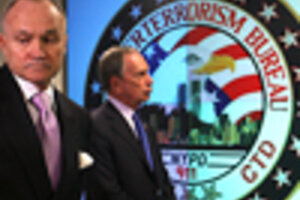 Tina Fineberg / AP
On the heels of breaking up an alleged bomb terror plot, New York is planning to place high-tech security cameras, license plate readers, and "weapons sensors" in midtown Manhattan.
Office workers and tourists – and possible terrorists – will have cameras watching their every move as they visit Macy's, shop for diamonds at Tiffany & Co., or gawk in Times Square. The apparatus, paid for by some $24 million in Department of Homeland Security funding, will expand a similar effort already underway in lower Manhattan where cameras focus on the Federal Reserve, the New York Stock Exchange, and the Brooklyn Bridge.
Mayor Michael Bloomberg, announcing the program Sunday, said the goal is to detect terrorism threats and deter pre-operational surveillance. Sensors will try to detect chemical, biological, and radiological threats.
But some terrorism experts have questioned whether a camera network will deter terrorists. They also say that sensors are known to give off "false positives."
Meanwhile, civil rights organizations are concerned that the project will be another encroachment on civil liberties.
---