How US schools aim to handle swine flu
As several states begin receiving the swine flu vaccine, here is a Q-and-A on what parents can expect to happen at schools.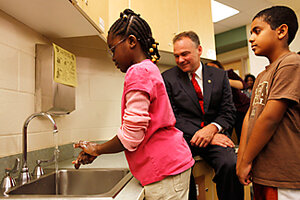 Jacquelyn Martin/AP
More than 700 schools shut their doors last spring, as the H1N1 flu virus hit the United States. Uncertainty over the severity of the disease and fears of a pandemic were widespread.
This fall, school boards plan to close only as a last resort, and they're instead focusing on prevention, containment, and common sense. The bottom line, they say, is that the illness has not been particularly severe, and there is no reason for alarm.
Still, rumors and fears are circulating both about potential dangers in a swine flu outbreak and about an overly vigilant government response that might trample individuals' rights.
Here's a breakdown of what parents can expect at schools this fall.
What preparations are schools making?
Schools are emphasizing the importance of hand-washing, asking parents to keep children home until they have had no symptoms for at least a day, and designating a room to isolate children exhibiting symptoms until parents take them home.
Many schools are installing hand sanitizers in every classroom and posting signs reminding students and staff about hygiene.
In Chicago, where last spring two schools shut down for at least a week, the district is monitoring patterns of absences and tracking them in a database that is provided daily to the city health department. The events last spring "made us put in place a response plan that we can now use for any emergency," says Monique Bond, spokeswoman for Chicago Public Schools. "That was the good thing that came out of this."
---