Why many Americans are wary of the swine flu vaccine
Government officials insist that the swine flu vaccine is safe. But critics have doubts about its effectiveness and effect on children.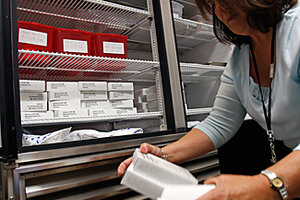 Mike Groll/AP
As the H1N1 flu vaccine begins arriving at clinics around the country this week, Americans are confronting a difficult question: Is the risk of getting the swine flu higher than potential complications from a vaccination?
Most US doctors say the new H1N1 vaccine, though quickly tested, is safe and effective. The biggest problem right now, they say, is making sure there's enough vaccine for everybody who wants a shot.
But as the US embarks on its largest vaccine campaign in history, a number of concerns – including actual effectiveness, its effect on children with asthma, and the use of miniscule amounts of mercury as a preservative in adult doses – are feeding into a growing reluctance by as many two-thirds of all US moms and dads to give their children the shot, according to a recent Consumer Reports survey.
Health experts worry that the pushback could jeopardize the primary aim of government officials: to contain the spread of swine flu in day cares and schools by urging everyone between ages 6 and 24 to get vaccinated.
"Polls are showing that more parents are more concerned about giving their child another vaccination than the child getting seriously ill, and I think that's going to seriously blunt the government's effort to prevent a massive outbreak," says Sonja Gerrard, an epidemiologist at the University of Michigan in Ann Arbor.
The government hopes nearly half of all Americans will get the shots. So far, between 500 and 600 fatalities have been reported in the US, compared with the oft-cited Centers for Disease Control and Prevention (CDC) figure of 36,000 annual fatalities from seasonal flu, primarily among the elderly.
---
Follow Stories Like This
Get the Monitor stories you care about delivered to your inbox.