Mississippi mandates civil rights classes in schools
All students will study the nation's racial troubles and progress in US history courses.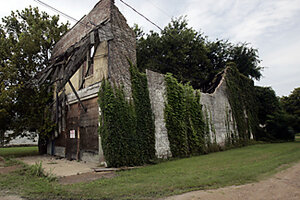 AP
The boxwoods are perfectly trimmed to spell out McComb. It's a warm, Mississippi welcome from "The Camellia City of America," where streets are named for states, and flowers spill from planters accenting century-old architecture.
Only when you stroll beyond downtown, into older neighborhoods, do you catch a faint whiff of another time, a summer when the air seemed to always be filled with smoke, the streets stained with blood – a time when McComb had a darker moniker: "The Bombing Capital of the World."
Most Mississippi children have never heard of Emmett Till, the 14-year-old black child whose 1955 lynching in Mississippi by a white mob galvanized the civil rights movement. They haven't heard of the 1964 "Freedom Summer," when 1,000 volunteers swept into this area to register black voters. They don't know about ordinary citizens who faced extraordinary odds to bring change.
But they're going to know all about it soon. In a groundbreaking reform – believed to be the first in the nation – Mississippi will require civil rights as part of its US history curriculum. McComb schools made that move in 2006; but starting next fall, the stories of the civil rights era will be taught – and tested – in all public schools.
In many places, it will end a decades-old culture of silence. People here don't like to remember the nights of church bombings and explosions; the sound of rifles being loaded in the dark as citizens patrolled sidewalks and sanctuaries, trying to stem the violence. They don't like to remember the fear and distrust – between blacks and whites, but also among themselves.
---