US officials combat public's wariness of swine flu vaccine
With polls showing that Americans are concerned about the safety of the swine flu vaccine, government health officials are being dispatched across the US to make the case for vaccination.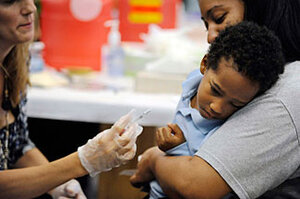 Jonathan Ernst/REUTERS
The Centers for Disease Control and Prevention has dispatched swine flu "mythbusters" across the United States to correct what it says are rumors and misconceptions about the H1N1 virus and the new swine flu vaccine reaching American clinics this week.
Their task won't be easy. Despite a US vaccination regimen that public health officials widely regard as a success, a distrust of government scientists in general and of vaccinations in particular pervades large swaths of America, according to recent polls.
The vaccine is opposed, moreover, by naturopaths and even a well-known epidemiologist, Tom Jefferson, who has deemed H1N1 "not a major threat."
"[T]here are a lot of rumors out there and we're trying to address them, that we're expecting a very good safety track record for H1N1 vaccine," said Anne Schuchat, director of the Centers for Disease Control's National Center for Immunization and Respiratory Diseases, at a news conference Friday.
While the share of people concerned about swine flu has jumped from 38 percent in June to 52 percent now, 41 percent of respondents still say they definitely will not get the flu shot, according to a recent Harvard Opinion Research poll. A Consumer Reports poll found that two-thirds of US parents have reservations about giving the vaccine to their children.
---