In Germany, mineral baths and Bismarck
Health clinics are an integral part of the country's healthcare system. They are intended to help heal or prevent further development of illnesses.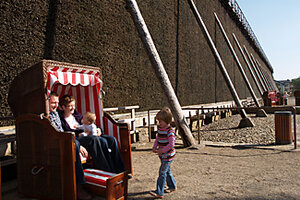 Christoph Rau / Special to The Christian Science Monitor
Not long ago, Hannelore Elsner's life looked bleak. She was burdened with back pains, a shaky marriage, and unruly preadolescent children. Then her doctor prescribed a stay at a "Kurort," or "wellness clinic."
The three weeks of exercise, relaxation, and counseling – all custom-fitted by a medical staff in an oasis of green – did more than rejuvenate her physically, she says. It transformed her existence.
"I could stand back and think, 'What are my goals in life?' " she says back home in Frankfurt, preparing lunch for her two children. "I can see the horizon again."
Health clinics, including ones with supposedly curative mineral waters, are as much a part of German culture as bratwurst. They are also an integral part of the country's healthcare system, intended to help heal or prevent the further development of an illness.
Health insurance covers stays at "Kurs" for all Germans who need it, regardless of age, sex, income, or medical preconditions. And now, according to a recent law, health plans must also specifically cover visits for mothers.
German health insurance paid out €335 million ($492 million) last year to roughly 47,000 mothers and children who attended one of 84 certified "mother-children cure clinics." That represents only a fraction of the nation's €160 billion healthcare budget. "But," says Anne Schilling of the Berlin-based German Mother Recovery Foundation, a lobbying group, "each stay had a huge impact on the lives of those individual women."
---