Alaska oil's new 'Gulf of Mexico'
Oil companies are eyeing Alaska's largely untapped outer continental shelf. Critics say that's another Exxon Valdez waiting to happen.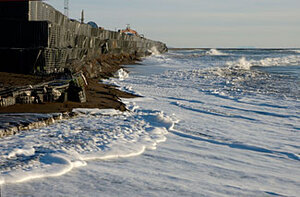 NEWSCOM
The treacherous, ice-choked waters off Alaska have long lured risk-­taking fortune hunters seeking furs, fish, or other riches.
Merchant marine companies in the 19th century were so intent on pursuing the lucrative whale-oil and baleen trade that they were willing to lose entire ships, and they did. Vessels were occasionally crushed by masses of shifting sea ice.
Today, the prize is petroleum.
Inspired by higher prices, new technology, and the inescapable fact that Alaska's onshore fields are running dry, companies have put up billions of dollars to start the search for oil and gas in the lightly developed, federally managed Alaska outer continental shelf (OCS). In all, the OCS could hold oil in quantities similar to that at Prudhoe Bay – the oil field that has fueled Alaska's economy for four decades.
Yet those forces of nature so brazenly flouted by traders centuries ago, coupled with the new stresses from a rapidly changing Arctic climate, are giving environmentalists and Inupiat Eskimos pause. If boosters consider the OCS to be the next Prudhoe Bay, critics fear it could be the next Exxon Valdez.
Lawsuits have already forced oil companies to pare back or delay drilling plans. But with the Obama administration set to review offshore drilling rights in the region – promising a balance of economic and environmental needs – the issue is now coming to a head.
The US Minerals Man­age­ment Service estimates the entire Alaska OCS – the waters stretching from three to 200 miles offshore – holds 27 billion barrels of oil. Almost none has been touched by a drill bit.
---