US strikes at Mexican cartel's drug-and-gun trade
A violent Mexican cartel, La Familia, is target of US raids. More than 300 arrested.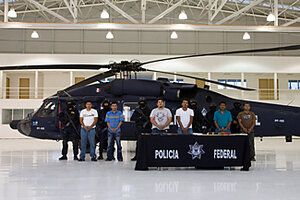 Jorge Dan/Reuters
Federal agents have launched a massive assault on the US-based distribution network of a major Mexican drug cartel in an effort to disrupt the flow of drugs into the US and the counter-flow of military-grade firearms to Mexico.
The cartel's network was heaviest in California and Texas, but it stretched across the nation to Boston, Seattle, even St. Paul, Minn.
The coast-to-coast take-down was aimed at La Familia Michoacana, Mexico's youngest cartel and one of its most violent.
"The sheer level of depravity of violence that this cartel has exhibited far exceeds what we unfortunately have become accustomed to from other cartels," said Attorney General Eric Holder in announcing the operation in Washington.
The operation, conducted on Wednesday and Thursday, featured raids in 19 states and 49 US cities. It is said to be the largest coordinated effort against a Mexican drug cartel in law-enforcement history.
Agents made 303 arrests and seized $3.4 million in cash, nearly 730 pounds of methamphetamine, 62 kilograms of cocaine, 967 pounds of marijuana, 144 weapons, and two clandestine drug labs.
"This operation has dealt a significant blow to La Familia's supply chain of illegal drugs, weapons, and cash flowing between Mexico and the United States," Attorney General Holder said. "The cartels should know that we here in the United States are not going to allow them to operate unfettered in our country."
---