Russia becomes the world's taxicab to space
Though its program is nothing like it once was, the country uses its fleet of rockets to ferry tourists and satellites into orbit.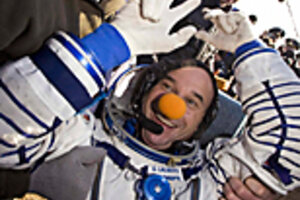 Sergei Remezoz/ Reuters
For better or mirth, it has become one of those indelible images from space: Canadian circus billionaire Guy Laliberté floating around the International Space Station wearing a red clown nose.
The stunt earlier this month by the founder of Cirque du Soleil, who once performed as a fire breather, was intended to provide a moment of levity for his wife and children during a video linkup. But it also served a more serious purpose: to draw attention to the crusade for which he paid $35 million to journey into orbit – the need for clean water on Earth.
Mr. Laliberté is the seventh space tourist to be sent aloft on Russian rockets. His odyssey, now over, shows how much the Russian space program has evolved since the pioneering days of Sputnik a half century ago, when the country's technological prowess was both the envy – and vexation – of the West.
Though hardly the juggernaut it was at the height of the cold war, the Russian space program today is also not just a cosmic limousine for wealthy clowns. In recent years, it has become something of a taxicab for spacefaring nations around the world.
Earlier this month, no fewer than three Soyuz spacecraft were docked at the International Space Station (ISS). During the recent grounding of US space shuttles, both Soyuz and Progress missions were essential to keeping the ISS going. At the same time, the Russians remain active in the satellite launch business. "This year we will have 44 flights, which is more than we had last year, and we spend less per flight than the Americans do," says Alexander Voro-byov, press secretary of RosKosmos, showing a touch of the old Russian pride.
---