FBI arrests two Chicago men for Danish terror plot
Two Chicago men are being charged over a plot to attack a Danish newspaper that published a controversial cartoon of the prophet Muhammed in 2005.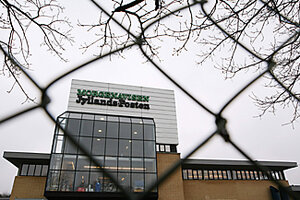 Kaare Viemose/Polfoto/AP
Federal authorities announced Tuesday that they had broken up a Chicago-based plot to help attack the offices of a Danish newspaper that once published cartoons depicting the prophet Muhammed.
Publication of the cartoons in 2005 sparked outrage among many Muslims internationally. It also triggered calls by Islamic militants for retaliation.
Federal prosecutors said they believe the two Chicago men, David Coleman Headley and Tahawwur Hussain Rana, were helping to plan a potential retaliatory attack against the Danish newspaper with the Pakistan-based Lashkar-e-Taiba (LET), which is classified as a terrorist organization by the US government.
Mr. Headley, a US citizen, was arrested Oct. 3 by Federal Bureau of Investigation agents at Chicago's O'Hare International Airport as he was about to board a flight to Pakistan via Philadelphia. His alleged co-conspirator, Mr. Rana, a citizen of Canada, was picked up Oct. 18 at his home in Chicago.
Announcing the arrests, US Attorney Patrick Fitzgerald said there was no danger of attacks in the Chicago area. "Law enforcement has a duty to be vigilant to guard against not just those who would carry out attacks here on our soil but those who plot on our soil to help carry out violent attacks overseas," he said in a statement.
---