What went wrong on the Bay Bridge?
A temporary repair made during Labor Day weekend failed in high winds, leaving thousands of commuters in a traffic mess. The Federal Highway Administration is investigating.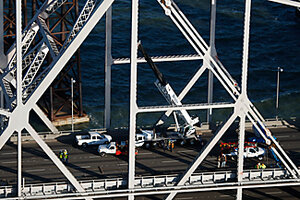 Marcio Jose Sanchez/AP
Transportation officials blame high winds for causing a 5,000 pound crossbar and two steel rods to snap off a previously repaired section of the San Francisco-Oakland Bay Bridge on Tuesday during rush-hour.
The bridge remained closed Wednesday as workers battled more gusty winds to fix the section. Officials haven't said when the bridge, which carries 280,000 motorists daily, will reopen. One person was injured and three cars damaged.
The pieces that fell were meant to fix a cracked eyebar that was discovered when the bridge was closed over Labor Day weekend for unrelated work on a new span, which is set to replace the existing bridge, built in 1936.
When engineers noticed the damaged eyebar during an inspection planned to coincide with the weekend closure, crews worked around the clock and reopened the bridge to commuters on Tuesday morning following the holiday.
"Instead of replacing the eyebar, engineers designed a system that would place high-tension steel rods around the eyebars to redistribute the load evenly," according to a statement from the California Transportation Commission, or Caltrans, at the time.
The Associated Press reported Wednesday that the Federal Highway Administration will look into the failed Labor Day patch job. The agency did not inspect the previous repair.
---
Follow Stories Like This
Get the Monitor stories you care about delivered to your inbox.