Cliff Lee beats Yankees with one hand behind his back
Pitcher Cliff Lee's extraordinary effort in the Phillies' 6-1 win over the Yankees in Game 1 of the World Series included a behind-the-back catch.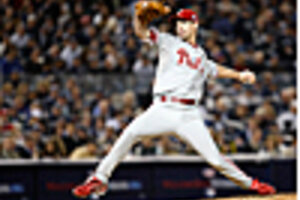 Mike Segar/Reuters
The great athletes are supposed to make their sports look easy.
But perhaps not this easy.
For Philadelphia Phillies pitcher Cliff Lee, it was not enough merely to bamboozle the most fearsome lineup in professional baseball with pitches no one but Tim McCarver had ever even heard of. (A "spike curve"? Seriously?)
Nor was it enough to do it in the World Series.
No, the cherry atop of Lee's sparkling 6-1 win over the New York Yankees in Game 1 of the Fall Classic Wednesday night was that he did all of this while looking vaguely like your next-door neighbor mowing his lawn.
In other words: roaming around the mound with the vague expression of someone who appeared to be wondering if he left the oven on.
In the sixth inning he caught Johnny Damon's pop-up with a nonchalance bordering on arrogance. Never mind that this was the first World Series game that he had ever played – that it was Game 1 in Yankee Stadium, the namesake and descendant of the amphitheater that is to baseball what Mount Olympus was to the Greek Olympiad.
---