'This Is It': Michael Jackson's earnings boom
Michael Jackson's estate has reportedly earned $90 million since the entertainer's death in June – and "This Is It" may boost that number. But his estate's long-term value remains unclear.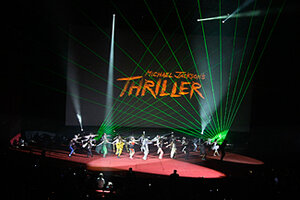 Anna Shevelyova/AP
Michael Jackson made more money than Elvis Presley this year – $90 million versus $55 million, according to a Forbes report, boosted by a deal to use his name and likeness in his concert film "This Is It," which took in $2.2 million on its opening night Tuesday.
But will Mr. Jackson top the ranks of highest-earning celebrity estates ever, and will his untimely death make a difference? Outlook: cloudy, say the folks who have their finger on the money that trails the famous long after their passing.
Take for example the pop star's iconic sparkly white glove. It sold for nearly $70,000 in October. But, says Joe Maddalena, president of Profiles in History, the Hollywood memorabilia auction house that handled the sale, the man who owned the glove phoned him just prior to the performer's unexpected death in June to inquire about the glove's value.
"It was the same," Mr. Maddalena says, adding that it's far too early to calculate whether the singer will vault over legends such as Marilyn Monroe, James Dean, or Elvis Presley in long-term value.
---
Follow Stories Like This
Get the Monitor stories you care about delivered to your inbox.