For Pedro Martinez, déjà vu in loss to the Yankees
Pedro Martinez pitched masterfully for six innings of the Phillies' 3-1 loss to the Yankees Thursday. Now, he just needs a manager to take him out when he gets tired.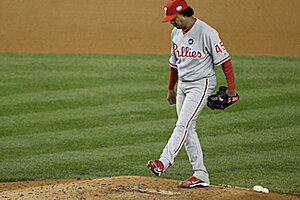 Julie Jacobson/AP
The New York Yankees unveiled several secret weapons in their 3-1 Game 2 World Series victory over the Philadelphia Phillies Thursday.
One was A.J. Burnett, who at last did an excellent impression of the pitcher the Yankees spent $82.5 million to secure in the offseason.
Another was Mark Teixeira, who previously appeared as if he had spent much of the postseason batting with a rubber haddock until he walloped a game-tying home run in the bottom of the fourth inning.
Yet perhaps the most curious was the Yankees' continuing good fortune to play against opposing managers who see the baseball world through Pedro-colored glasses: first, the Red Sox's Grady Little in 2003, and now, the Phillies' Charlie Manuel.
Yes, New York already had a 2-1 lead when Manuel decided to send Pedro Martinez to the mound in the bottom of the seventh inning.
And the Yankees bullpen was already in the process of making the change to Mariano Savings Time – a two-inning zone at the end of the game in which opposing batters pay homage to the greatest closer in baseball history by repeatedly striking out on the same exact pitch (a cut fastball).
---