Coast Guard crash: Massive search on for missing nine
Rescue teams are searching for nine people missing in Thursday's Coast Guard crash, in which a search plane collided with a Marine Corps helicopter that was conducting training off the California coast.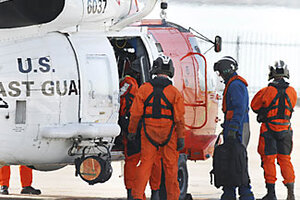 Denis Poroy/AP
Search crews are sifting through wreckage off the Channel Islands of California to find nine people after a mid-air collision between a Coast Guard search plane and a Marine Corps helicopter.
Early Thursday evening, the Coast Guard C-130 was on its own search mission for a 12-foot skiff thought to be lost near San Clemente Island. At about 7:15 p.m., the low-flying plane and a Marine Corps AH-1 Cobra attack helicopter that was conducting a nighttime exercise collided. The resulting fireball was witnessed by another pilot nearby, according to reports.
Now, the original search for the skiff has expanded to a 14-mile by 14-mile search area with a flotilla of Navy, Marine Corps, Coast Guard, and Customs and Border Patrol vessels and a number of aircraft all looking for survivors of the crash, according to Coast Guard officials. The "debris field" is smaller – about 10 miles by four miles, says Petty Officer Matthew Schofield, a spokesman for the Coast Guard.
"Right now we're still searching with the hope that we find survivors," he says.
The crash comes as the US Navy searches for two survivors of another crash over Texas Thursday, this one involving a single-engine turboprop training plane.
---