Alex Rodriguez earns his keep in Game 4 of World Series
Baseball's highest-paid player, the Yankees' Alex Rodriguez, called his game-winning double the biggest hit of his career. The Yankees now lead the World Series 3 games to 1.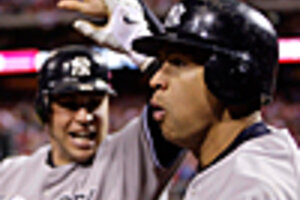 Matt Slocum/AP
Up until Game 4 of the World Series, New York Yankee Alex Rodriguez, by his own admission, had done very little except strike out or hit majestic fly balls.
But in the ninth inning Sunday night, Rodriguez smashed a game-winning double deep into left field. He calls it the biggest hit of his career, and the Yankees won 7 to 4.
Yes, with one swing of the bat, the highest-paid baseball player, frequently lambasted in the press, achieved what one baseball commentator called "total redemption." His strikeouts in other clutch situations will be forgotten. His rough-and-tumble playing tactics, his shenanigans off the field will pale.
His swat left the Yankees with a commanding lead of 3 games to 1 over last year's champs, the Philadelphia Phillies. Now, for the Phillies to win, they will need Rocky Balboa type of theatrics because they would need to win every game left.
They will give it their best on Monday night when Phillies ace Cliff Lee starts against A.J. Burnett, another high-priced acquisition by the Yankees. Phillies manager Charlie Manuel promises a battle.
"We may be down, but we're still breathing," he said in a press conference after Game 4.
The Phillies would be breathing easier if they had not made a mistake in the top of the ninth inning, before Rodriguez came up. With the scored tied and with two outs, Phillies closer Brad Lidge had two strikes on Yankee left fielder Johnny Damon. But after fouling off pitch after pitch, Damon managed to hit a single. Then, with Mark Teixeira at the plate, the Phillies went into an overshift, playing him to pull the ball.
---