New LAPD chief's challenge: build on Bratton's legacy
The three finalists for the post – all from within the LAPD – have big shoes to fill with the departure of William Bratton, who is credited with turning the force around.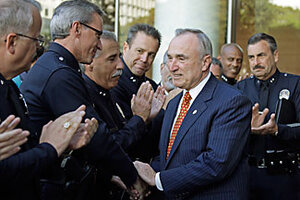 Reed Saxon/AP
The biggest challenges facing the next police chief of the Los Angeles Police Department (LAPD), to be announced Tuesday, will be to find his own voice – and to finish the reforms started by outgoing chief William Bratton, say community activists, city officials, and police watchdog groups.
Mayor Antonio Villaraigosa will announce his choice from among three finalists, ending a three-month national search that saw the Police Commission interviewing 13 candidates including 11 from the LAPD command staff.
Mr. Bratton had urged the mayor and the Police Commission to name his successor from within the department.
"The fact that all of these [finalists] are white males and that there has been no uproar from the black community or outcries from the Hispanic community speaks volumes as to their high quality," says Najee Ali, a well-known activist with a history of running afoul of the department. Mr. Ali says he and other community leaders will be comfortable with whoever replaces Bratton as long as that person continues implementing his reforms, including the use of CompStat computers – which helped LAPD target problem areas – and the push toward community policing, and ending racial profiling and police abuse.
"The biggest challenge for Bratton's successor will be to fill the shoes of what many consider to be the greatest and most popular chief in LAPD history who single-handedly brought new reforms to a troubled, beleaguered department," says Ali.
The three finalists are Los Angeles Deputy Chief Charlie Beck, a 32-year-veteran who is considered front runner by most LAPD insiders, Assistant Police Chief Jim McDonnell, a 28-year veteran currently second in command to Bratton, and Deputy Chief Michel Moore, also a 28-year veteran.
---