In Yankees-Phillies Game 5, Utley a home-run machine
Utley lifted Philadelphia to an 8-6 win in Game 5 of the World Series with two home runs. Now, the series heads to New York for Wednesday's Game 6.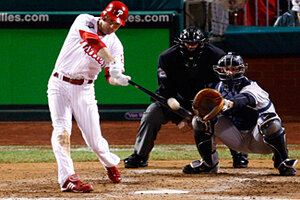 Shaun Best/AP
The New York Yankees may have Alex Rodriguez. But the Philadelphia Phillies have Chase Utley, a home-run-hitting phenom.
Thanks to the Utley factor, the defending world champions have forced Game 6 of the World Series, which will be Wednesday night at Yankee Stadium.
Yes, it's back to New York after the Phillies on Monday night crushed home run after home run to beat the Yankees by the score of 8 to 6. The Yankees' lead in the series is now more narrow – 3 games to 2.
Utley, the Phillies' power-hitting second baseman, is red-hot, launching two blasts in their victory. That's happened only once before, in 1980. Utley's first homer came in the first inning with two men on base. His second was a solo shot in the seventh.
Utley has been a home-run hitting machine in the World Series, knocking five out of the park. That surpasses Babe Ruth's record and ties Reggie Jackson's 1977 total, the most ever. And this series is not over.
---