NASA's Messenger probe reveals new clues about Mercury
Mercury, the oddest of the rocky planets, has been little understood by scientists. But on a swing by the planet, NASA's Messenger sent back intriguing data about Mercury's surface minerals and volcanic activity.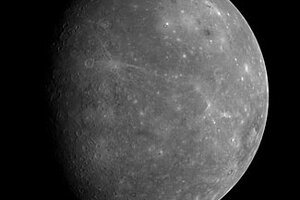 Carnegie Institution of Washington/ Johns Hopkins University Applied Physics Laboratory/ NASA/ Reuters
NASA's Mercury mission spacecraft, Messenger, is revolutionizing humanity's view of the first rock from the sun. And its primary science mission hasn't even started yet.
During its third and final flyby of Mercury, NASA's Messenger has found minerals on the planet's surface that current models say shouldn't be there in such abundance. And it appears that the planet was volcanically active – explosively so – for far longer than current ideas about its geological history suggest.
The flyby took place Sept. 29. Mission scientists unveiled highlights from the flyby during a press briefing Tuesday afternoon.
Piecing together Mercury's story "is like reading a fine mystery novel by Dorothy Sayers or Agatha Christie," says Sean Solomon, the mission's lead scientist and a researcher at the Carnegie Institution of Washington's Department of Terrestrial Magnetism. The effort comes complete with clues that point to the story's denouement, as well as red herrings to throw a reader off track.
Mercury is the smallest of the solar system's eight planets. And it's the oddest among the rocky planets. Its iron core comprises up to 70 percent of the planet's mass, making it the most dense planet in the solar system after Earth.
---