Yankees win World Series 2009 on the back of Matsui
The New York Yankees win their 27th World Series title with a 7-3 victory over the Philadelphia Phillies. In Game 6 alone, Matsui drove in six runs.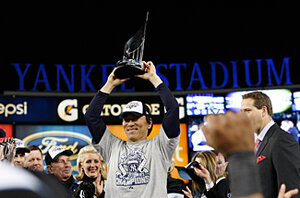 Mike Segar/Reuters
On Wednesday night, the New York Yankees rode one player – Hideki Matsui – to their 27th World Series title with a 7-3 win over the defending champions, the Philadelphia Phillies.
Matsui drove in six of the Yankees' seven runs. He hit a two-run home run, a two-run single, and a two-run double. He was named Series MVP, and it was the first time that title has gone to a Japanese-born player or a full-time designated hitter.
"Tonight, he was huge," said Yankee manager Joe Girardi.
Matsui's heroics came at just the right time. The Yankees had lost Game 5 in Philadelphia, forcing a sixth game at Yankee Stadium. If Philadelphia could win it, they could force a seventh and deciding game. But now the Yankees don't have to worry about playing in the rain, which is in the weather forecast for Thursday.
The Yankees' World Series title was their first since 2000. In those nine years, George Steinbrenner opened his checkbook freely and was often criticized for trying to buy another championship. But until this year, when he again spent millions of dollars on pitchers CC Sabathia A.J. Burnett and first baseman Mark Teixeira, none of the teams went all the way.
---